Amphetamine 安非他命 the Movie - and related works
This offering from Hong Kong gay cinema is a powerful film about a sexually confused, yet straight identified, young man named Kafka who is a crystal methamphetamine (ice) addict recovering from a homosexual gang rape when he was a youth. He befriends an openly Hong Kong gay banker named Daniel and the two ultimately fall in love with each other emotionally and sexually (to an extent).
From the outset, it's production in Hong Kong was embroiled in controversy for showing full frontal nudity (even in arousal in one scene), the euphoria in drug use (as well as the destructiveness), and a torrid gay-themed romance.
Amphetamine was produced, written and directed by Scud (single name only). It stars Byron Pang (HK) as Kafka and Thomas Price (Chinese and British mix heritage). The directorial style and cinematography is unusual in that it employs brief flash forwards and flash backs inserted at times in the narrative. This technique creates an effective, albeit jarring, way to remind and inform the audience of poignant plot points. Nonetheless the movie is filled with substantial hook (foreshadowing) that only come to light as the movie plot unfolds. Unlike Mainland Chinese and Japanese gay cinema, Amphetamine is not heavy on sentimentality but it is also not focussed either on the depravity of drug addiction as is found in the Basketball Diaries.
In essence, Amphetamine remains primarily a love story which focusses on the issues of internal homophobia and the acceptance of sexual love within a gay/straight male relationship.
When asked about the controversial nature of his work Director Scud explains in an
interview
:
Drug is a taboo and drug users are conveniently stereotyped into evil persons, unfortunately and unreasonably. But even a soul that's influenced by drug and abandoned by fate can be beautiful and loving, and that's the story of "Amphetamine"
The character name, Kafka, is based on a reference from the Japanese post-modern novel Kafka on the Shore by Haruki Murakami about a boy who discovers a place where he can enter an alternate reality. In the novel there is an evil presence which has the capability to murder while Kafka dreams. Murakami's novels tend to have fantastical bending of reality wherein animals can telepathically communicate with humans and moving stones can open portals into space and time. Kafka on the Shore has a homoerotic element wherein one of his transgendered friends is transfixed by Kafka's youthful body. However the bulk of the sexual intensity of the novel is the relationship between the boy in and novel and a successful woman curator who is over 30 year's the lad's senior. The themes in the movie Amphetamine have unapologetic parallels from the novel.
After his mother dies in the motion picture story, Kafka is discovered at a temple by Daniel, an up-and-coming young gay Hong Kong businessman. Daniel is immediately drawn to Kafka and pushes to start a relationship with Kafka despite the "little Sir's" addiction and his declaration that he is straight. Daniel and Kafka begin to bond through sharing their risk taking interests including training via Kafka's mastery of Kung Fu, illegally bunjee Jumping off an HK suspension bridge, and ultimately sharing binges on "ice". Intertwined in this love story are the two female exes of both men and the lingering issue of Kafka's pathological fear, yet growing acceptance, of gay intimacy with Daniel.

Another interesting aspect of this film is that it is based on the recent 2008 financial meltdown crisis and its effects on Hong Kong known as the Economic Tsunami in that region. The relevance of tying a financial crisis is not only pertinent to Daniel's character as a business man but to the rising incidence of methamphetamine use in Asia as it is linked to that region's financial ups and downs. (as discussed below)

The highly taboo subject of methamphetamine addiction in Asian cinema has only recently come to light in the past decade mainly in Korean cinema (Old Boy) which tends to be more reality based violent and hard hitting than other Asian cinema. Japanese cinema has dealt with drug addiction as well over the past few years but usually in a surreal way. One such movie, is a comedy about two modern day samurai who are tripping on mushrooms almost the entire time.

Karl Taro Greenfeld, recent editor of Time Asia, opened the pandoras box of drug addiction that is widespread across Asia in his documentary travelogue Standard Deviations: Growing Up and Coming Down in the new Asia. In it the Japanese-Jewish American chronicles his own harrowing journey with various illegal drugs on his travels through "the circuit" from Japan, Hong Kong, Thailand, Nepal to Malaysia. He documents the perils of crystal meth most elaborately: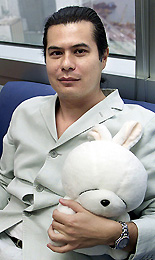 Karl Taro Greenfeld - Author and Editor, Time Asia
"This Mad Medicine is called shabu in Japan and Indonesia, batu in the Philipinnes, and bingdu in China...You become, after that first hit of speed, gloriously, brilliantly, vigorously awake. Your horizon of expectation expands outward, just as in your mind's eye your capacity for taking effective action toward your new, optimistic goals has also grown exponentially. Then, eventually, maybe in an hour, maybe in a day, maybe in a year, you run out of speed. And You crash. In country after country throughout Asia, meth use skyrocketed during the nineties. And with the crash of the region's high flying economies, the drug's used has surged again."
Speed Demons from Standard Deviations - Karl Taro Greenfeld.



Amphetamine -
Official Movie Site
More about Amphetamine based drug
s and specifically
Methamphetamine