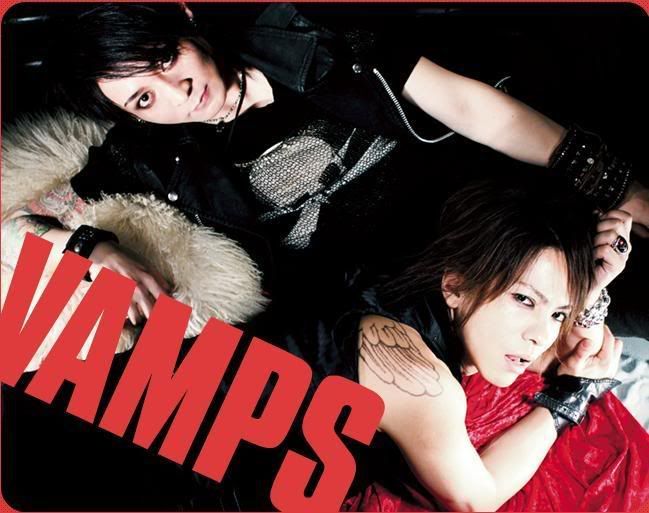 One the heels of their recent US tour, VAMPS has announced a world tour in 2010. This band represent the milestone reached by many bands in the independent J-Rock scene of how sound production and musical styles of the West can be blended and perfected. Additionally, Japanese bands such as VAMPS are writing many of their songs in English. So while their Japanese fan base remains solid, bands like X-Japan, VAMPS, and Love Psychedelico are gaining a worldwide audience previously denied J-Rockers due to a pretty rigid language barrier. It seems (sigh) in the rock world, English dominates no matter what the musical style. (the exception to this rule is the Heavy Metal scene in Europe where English does not seem to be a requirement.
Like most J-Rock bands it is pretty impossible to classify VAMP dominant sound. Some songs are ballads, others are hard driving speed metal, and some are U2 influenced in terms of linear guitar licks. Of course the characteristic "anime wail" of the vocals remains a distinct Japanese style for most of these bands.
BAND INTERVIEW HERE
- J-Pop World
In VAMPS sound you can hear the influences of Gackt Camui and L'Arc En Ceil. No small concidence. One of the founding members, lead vocalist and guitarist HYDE (not to be confused with the dearly departed HIDE of X-Japan) is a close friend of Gackt's, acted with him in a vampire film Moon Child in 2004 , sang on one of Gackt's duets, and was the lead singer L-Arc himself since 1991. K.A.Z. has been in a number of J-rock acts. Their support band is currently:
Drums: Arimatsu
Bass: Ju-ken (GacktJob, The Wanderers and Anna Tsuchiya)
Keyboards: Jin Saito (normally credited only as "Jin")
The band has an excellent live concert video of their performance in LA out. It can be found in most Asian based manga and anime video outlets.
As usual, we at Naifu don't reinvent the wheel, so here is the WIkiPedia entry:
________________________________
VAMPS is the name of the band formed by HYDE (L'Arc~en~Ciel) and K.A.Z (Oblivion Dust). HYDE and K.A.Z have been working together on HYDE's solo work since 2003. After years of collaboration, the two finally decided to form their own band and agreed that there was no better way to announce VAMPS than getting out in front of the fans right away.
Their first Nationwide tour of Japan, "VAMPS LIVE 2008", kicked off at Zepp Tokyo. Between August 1, 2008 and October 28, 2008, VAMPS played 46 shows at the prestigious Zepp live houses throughout Japan. The tour was totally organized by VAMPS and the venues were custom decorated by spray art such as the now-famous VAMPS castle. The band played 6 to 10 shows at each Zepp venue and every single show was sold out. The continuous string of sold out shows were unprecedented and had never taken place during any other Zepp live house tour before. Their second single "I Gotta Kick Start Now" was released on March 13, 2009. A new single "Evanescent" was also featured as a PV.
On January 31st 2010 the band has been awarded with the "Billboard Japan Ranking International 2009" Award for their efforts and success with their Tour in the U.S.A.[2]
After the band released the DVD Vamps LIve 2009 U.S.A. on March 17, 2010, they released the single "Devil Side" on May 12, 2010. Their sixth single, "Angel Trip", was released on June 9, 2010. Following its release, their 2nd album, Beast, was released on July 28, 2010.
http://en.wikipedia.org/wiki/Vamps
_____________________________
With song titles such as Trouble and Sex, Blood, Rock and Roll, and the lyrics below. These punker-like pretty boys love the baddish image they present to their many legions of women and fangirls. However, when they address their fans in English conversation they are fairly demure: "When we come back to the USA, will you like to come back and see us?" Hyde tentatively asked his cheering fans. Then he screams an intro to the next song.
LOVE ADDICT
Hey! Keep on rolling baby I want to explode
Oh yes, need you darling with the growling exhaust note
A love addict come light my fire
A love addict I'm already a love addict
Yeah! Just free your mind
Yeah! Let's get it on now
Yeah! Just free your mind
Yeah! Let's get it on now
Mom, I'm sorry am I playing some bad games
We starve like cherries, baby I want to explode
A love addict come light my fire
A love addict I'm already a love addict
_________________
Finally a great live video of Trouble filmed in the venerable Tokyo Budokan Hall. (made famous internationally by Cheap Trick's 1978 album Live at Budokan)
Here is the VAMPS official website: http://www.vampsxxx.com/main.html in Japanese
Here is there MySpace: http://www.myspace.com/vampsofficial